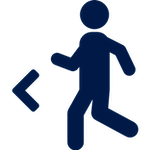 Back to main room / entrance                 

Exhibitor Quiz

---
---
Exhibitor Quiz
Participate in the exiting quiz with 1 question of each virtual exhibitor. By answering the questions you will learn interesting things about the services, products and the history of our partners. We will evaluate all incoming answers and based on the highest number of correct answers we will determine the winners.
The prize money is CHF 100.00 for the winner and 2x 50.00 for the runners-up.
The quiz is open until Fri, August 28, 2020, 08.00 (CET). 
---
---